Accredited installers of Daikin's 24-35kW condensing gas boilers.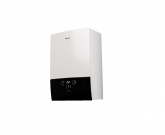 Griffiths are proud installers of Daikin's combination, condensing, gas boilers.
With energy efficiency rating of 'A' when in heating and 'A+++' in hot water mode when combined with solar thermal products, the systems offer the most energy efficient gas heating solution to a property.
As a Daikin D1+ installer Griffiths can offer extended 7 year warranty on installed systems.
Can be installed as a 'combination' or 'system' boiler.
Features of Daikin's energy efficient boiler:-
Very compact unit and flexible in use: possible to install in nearly all room conditions (inside the house as well as outside) thanks to freeze protection for water piping
Easy to service: all parts are accessible by only removing the front panel
High heating efficiency up to 108%
High modulating range 1:8 : the capacity is adapted based on the required heat load of the house from 3 to 24 kW
Combine it with solar heating for even better energy efficiency
24, 28 & 35kW capacities. The range offers a system suitable for all property sizes.
Key boiler terms explained
'Combination Boiler' - A single boiler unit which provides home heating and instantaneous hot water (No hot water cylinder is required). Typically suited to smaller (1-2 bed) properties with one bathroom. 
'System Boiler' - A boiler is installed with an accompanying hot water cylinder (Usually found in an airing cupboard). Typically suited to larger (3+ Bed) properties with multiple bathrooms/en-suite's.
'Condensing' - To achieve 90%+ 'A-rated' efficiencies, the boiler recovers heat energy which would normally have been lost in the flue gases (Via a secondary/larger heat exchanger), as a result 'condense' is produced from the cooled flue gas.
Most condensing boilers only recover heat energy when in heating mode. Daikin boilers uniquely recover heat energy in both heating and hot water modes.
'Modulating' - The boiler can vary the 'flow temperature' of water leaving the system depending on heating demand and external weather conditions. 
The Installation Process
For each installation Griffiths shall undertake a full survey of a property, estimating a room by room a property's 'heat loss'.
On existing homes a full appraisal of the existing central heating system shall be made, with recommendations of additional efficiency improvements which can be made.
A boiler shall be selected to meet the property's peak & seasonal heating demands, factoring in hot water usage.
Boiler installation undertaken, including a 'power flush' of central heating system and installing a magnetic particle filter (Where necessary).
Re-balancing of radiators and dosing heating system with 'inhibitor'.
System commissioning and hand over.